How I Came Up With The Books?
I am Tiffany Williford, the author of "Daddy Has an Owie" and "Mommy Has an Owie".  
For the last three years I have held these stories close to me. Three years ago, I wrote these books while my late husband was going through chemotherapy to explain to my young daughter her dad's cancer.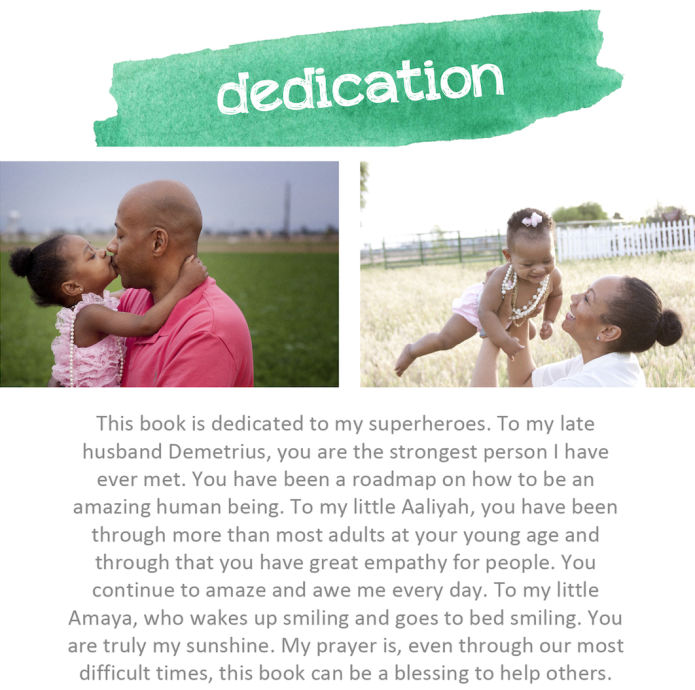 Prior to writing this story, I searched online for books, blogs and at the library for the right words to explain such a serious situation in a simple way for my daughter to understand. I didn't find anything and it created a desire to make something for others.
Your support of this book will mean:  other parents or caregivers may never have to struggle or search for the right words to say to their child, and children will have a story that can help them understand what their parent is going through. 
The Impact
With your support, we will be able to get these books out to the world! Daddy Has an Owie and Mommy Has an Owie will be available to help parents communicate to their children issues of illness and cancer their parent, caregiver or grandparent is going through.The vision is for these books to be a resource for many people that are struggling with this issue.  These books can also serve as a gift to give a family with a loved one newly diagnosed with cancer. The books as a gift, is given in the hopes that the recipient will have one less stress by not having to worry about what words to use for their child to understand cancer but not be fearful. 
Other Ways You Can Help
Whether you are able to buy a book or not, spreading the word is so helpful!!!You can support our cause and help spread the word by sharing information about these books!  Please share by:
Share  on social media – Facebook, Instagram, Twitter…anything you have, we appreciate!
Tag your friends
Email  friends about the books
If you know of or are connected with media outlets that would run a story on this campaign, please send us a message.
You can also follow me on Social Media:
Instagram: @tiffanywilliford_
Facebook: www.facebook.com/hasanowie
We love our customers and welcome your feedback and suggestions. Use our Contact Us page to tell us what we're doing right or what we can improve on.